Ban this!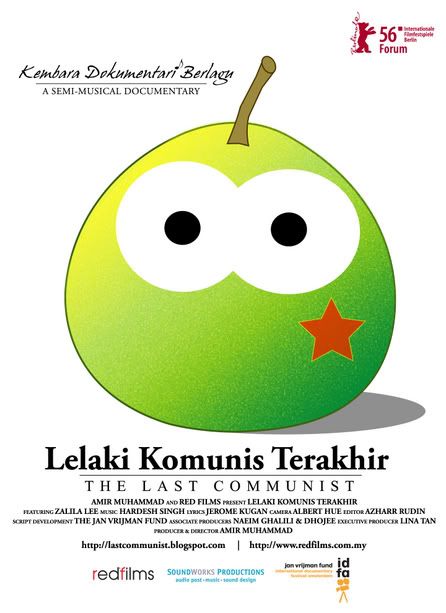 The Malaysian ban is final. The Home Affairs Minister Radzi Sheikh Ahmad
says
so.
We have not managed to make an appointment to see him. We sent him a 2-page appeal letter on 23 May but he has not replied. When I called his private secretary a few days ago, I was told that "the Minister has more important things to do now."
The same
report
gives a clue about what some of these things might be: In the final paragraphs he reminds Puteri Umno members to register to vote.
The reasons that he has given in the media for the ban have ranged from: It's insensitive to release it when Umno is celebrating its 60th anniversary; it might make people think Chin Peng is a 'poor old man'; and (my favourite) the documentary does not show enough violence.
Radzi had initially
said
that the Umno Supreme Council and not the government would have the final say. He seems to think that the Emergency affected Umno more than any other segment of society. But this proposal seems to have been quietly dropped.
He said that the ban was because "the people had protested." The fact that the majority of
commentators
online as well as in the English, Chinese and Malay print media are opposed to the ban does not seem to concern him; are these not people? The fact that the new Censorship Board committee (which had passed the documentary uncut) seems now
determined
to start treating Malaysians like rational people also means nothing. How many steps forward, how many steps back?
Lelaki Komunis Terakhir
is now the first Malaysian movie to be conclusively banned, with no possibility of appeal.
There have been other Malaysian films banned before -
Spinning Gasing
,
Amok
,
Fantasia
- but these were reversed on appeal, sometimes by going right up to the Prime Minister. I don't feel like going up to the Prime Minister. I've never even met the guy, and I'm sure he has more important things to do.
Yes, I lost a bit of money. But this can be slowly regained through the Korean TV sale and the Singapore box-office.
Of course I'm disappointed; not so much for myself as for what this signals for a country that has been lately harping on the need for a 'First World mentality' and to have a 'knowledge-based economy'. This is the same government that
wonders
why so many of its graduates that study overseas choose to stay overseas!
Will this discourage me from
making
other documentaries? Hell no. This is my country as much as it is any politician's, and I will continue to pursue subjects that interest me.
Will this discourage me from trying to
release
future movies in Malaysia? Well, this is a tougher one. The past month (since the ban was announced on 5 May) has been such an intense one. I don't know if I want to go through that again. It distracts me from what I should be doing, which is concentrating on the next documentary, which I am quite excited about and now raising money for.
I would like to thank all of you who have written in support, either on your blogs, or in newspaper columns, or who just utilised the Comments function on this here site. I have no illusion that you did it because you are concerned about me; rather you were -- quite rightly -- concerned about where this country is heading. The passion and intelligence displayed have been quite humbling, and of course inspiring.
I will continue to talk about this ban if asked. And there are many more overseas screenings lined up.
I have not 'given up' but time is precious and I need to pick my battles. I am sure the Malaysian public is resourceful enough to eventually see the documentary if they so wish.
What did hurt me (I'm only human) is when people say that my documentary will offend their grandfathers who 'fought' the communists. I had no wish to offend people's grandfathers, especially those I'd never met. And then I thought: What did these grandpas fight for? Seriously. Assuming they really risked their lives and fought, what were the ideals that motivated them? I would have thought they were fighting for the right for Malaya (and later Malaysia) to be a democratic society with plural voices, and not the totalitarian state that they assumed the communists would bring about. Totalitarian states, as we all know, are notoriously fond of banning things that don't immediately follow the party line. So did they really get what they fought for?
There have been many ironies attached to this project, and here is another: A huge worry that was articulated (mainly by people who had not seen it) is that this little documentary will somehow promote Chin Peng. Thanks to the publicity the ban has generated, a rep from a major local book-chain told me that Chin Peng's
book
is now sold-out and new copies had to be ordered. The past month has seen the highest sales of any time since it was launched.
To give the government due credit, this was probably all a roundabout way of encouraging people to read. And to this what can I, a longtime reader, say but
Syabas
?