Singapore cinema release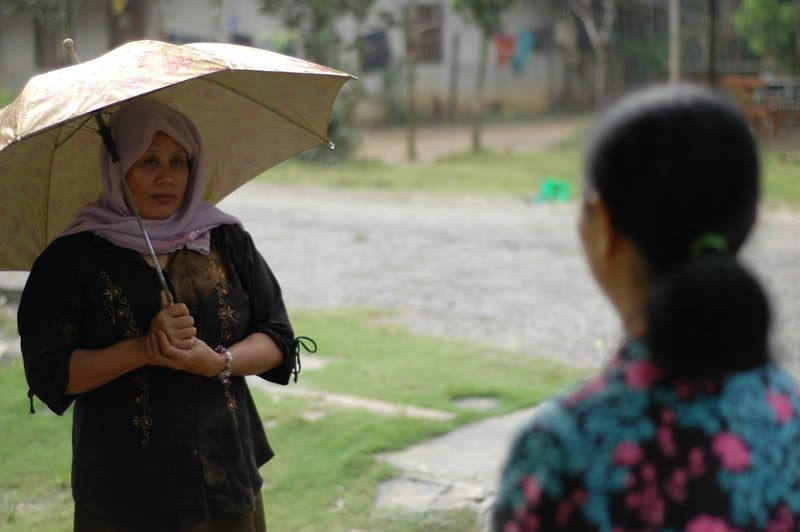 Spread da word!
Apa Khabar Orang Kampung
(under its English title
Village People Radio Show
) will begin screening at
Cathay Picturehouse
, Singapore, from 10 May.
It has been passed by the censors without cuts but rated NC16 (content not suitable for children below 16).
The screening at the Singapore International Film Festival last Saturday was sold out. What's great is that some Malaysians travelled from JB and Malacca just to catch it.
This is a review that appeared when it premiered in Berlin:
VILLAGE PEOPLE RADIO SHOW
(Apa Khabar Orang Kampung)
Malaysia/2007/72 min
Director/screenplay: Amir Muhammad
Production company:
Da Huang Pictures
International sales:
Red Films
Producer: Tan Chui Mui
Executive Producer: James Lee
Cinematography: Albert Hue
Editor: Akashdeep Singh
Screen International Daily
14 February 2007

Reviewed by Dan Fainaru
at the Berlin Film Festival
A sequel of sorts to Amir Muhammad's
The Last Communist
, which toured the festival circuit,
Village People Radio Show
is a laid-back documentary shot in Southern Thailand that delivers more than enough on the Malayan Communist Party and its members in recent years.
Whether it will manage to draw the attention of the general media outside its own territory remains to be seen. It is still not certain whether the Kuala Lumpur censors will clear it for screening in Malaysia or decide, as they did with
The Last Communist
, to ban it a fortnight before its planned release.
The communists in Malaysia have always had it tough. During the last century, the country was run first by the British, then occupied by the Japanese, then the British returned before the country's independence in 1957.
The predominately ethnic-Chinese party was accused of being atheist in a predominately Muslim society, as well as working with foreign forces, and was eventually banned. With active financial support from China, it pursued its struggle against the government until 1989, when a peace treaty of sorts was signed.
Many of the guerrilla fighters long ago moved their families across the border into Thailand and continue to live there peacefully. It is here that Muhammad found a handful of Malay communist party survivors last year – one of them, Pak Kassim, died three weeks after the shoot aged 86.
Muhammad is an unusual documentary film-maker who is notorious for interrupting his previous work with specially commissioned songs or even refraining from showing his subjects on screen.
This time he uses a slightly more traditional approach but nevertheless disrupts time and again the flow of testimonies with excerpts from a Thai soap opera inspired by Shahespeare's
A Winter's Tale
.
The technique wakes up the proceedings to a certain degree because the interviews, while dealing with serious matters, unfold in a relaxed way, implying its subjects are now not troubled by what happened.
The paradise landscape in which they now live, doted on repeatedly by Muhammad's camera, suggests the former fighters are at peace with themselves.
A Winter's Tale
may appear to associate with their lives, but 'all's well that ends well' is perhaps a better reflection.